AGRI PRODUCTS - Giant Corn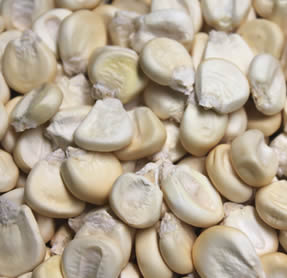 Giant Corn
Cusco Giant Corn
Cusco Giant Corn is recognized as the "Largest Corn in the World ". It is exclusively grown in the Urubamba Valley - Cusco, also known as the "Sacred Valley of the Incas", a region in the Highlands whose particular ecological conditions have, since ancestral times, favored the development of this amazing corn, which has been part of the daily diet of our ancesters. This legacy dates back to the Inca times.
Characteristics:
It is an amylaceous corn characterized by the softness, uniformity and exceptional size of its kernels, making it more attractive than other varieties in the world.

Cusco Giant Corn is mainly used as snacks.

Among its advantages, it has a lower content of fats and calories and is more easily digested than other substitute products such as peanut, pistachio nuts, etc.
Calibers: Traditionally, two calibers are offered:

Grade No. 1: 24-27 kernels per ounce of 28.32 grams.
Grade No. 2: 28-32 kernels per ounce of 28.32 grams.

Packaging: It is packed in 25- or 50-kg jute or laminated polypropylene sacks.
Harvest: season June, July and August.
Availability: June to December.
Container capacity: In 25- or 50-kg sacks. Each 20' container can hold up to 17 tons.
Nutrition facts:

Moisture: 13.7 %
Ashes: 1.3 %
Sugars: 2.0 %
Starch: 63.4 %

Tariff item: 1211.90.30.00